The Vatican Museums and the Sistine Chapel are some of the most important attractions in Vatican City and Rome. Of course, you can visit them too, but you'll have to pay for this treat. How much? We'll examine that today.
We've already covered the Vatican Gardens and their costs, now it's time for another gem of the Vatican – the famous Sistine Chapel and the Vatican Museum next door. The famous chapel was built between 1473 and 1481. It measures about 35 metres in length by 14 metres in width. It's known mainly as the place where the papal conclave takes place, though also for its opulent decoration. You may also recognise the fact that Michelangelo decorated the wall above the altar with his The Last Judgement.
Then there's the museum, which offers 20,000 items on display showcasing the various works of art that the Catholic Church has amassed in the centuries of its prominence, including worldwide known Roman sculptures and Renaissance art pieces. The museum was founded in the early 16th century.
That's all well and good, but how much does it cost to enter?
Ticket prices to the Sistine Chapel and the Vatican Museum
How much does it cost to enter the Sistine Chapel?
There's only one ticket, which includes both the Chapel and the Museum. You can buy a regular one or a reduced one for, for instance, children. Regular tickets cost €17, while the reduced one costs €8. There's also a pre-sale fee (which is just a fancy way of saying fee for reservations) which adds €5. There are also options for audio guides – €7 for a version of the tour for adults and €5 for the version for children.
There is one ticket to the Chapel and to the Museums, but you can buy a regular one, i.e. a normal ticket and a discounted one for, for example, children. A normal ticket to the Sistine Chapel and the Vatican Museums costs EUR 17, a reduced ticket costs EUR 8 and the so-called pre-sale fee costs EUR 4 (by the way, it's a scandal to charge EUR 4 for an online pre-sale). Audio guides cost EUR 7.
Children from 6 to 18 years old (including 18) and students up to 25 years old qualify for a reduced ticket (students need an identity card as proof).
You can show your ticket printed or on your phone.
Where to buy tickets to the Sistine Chapel and the Vatican Museum?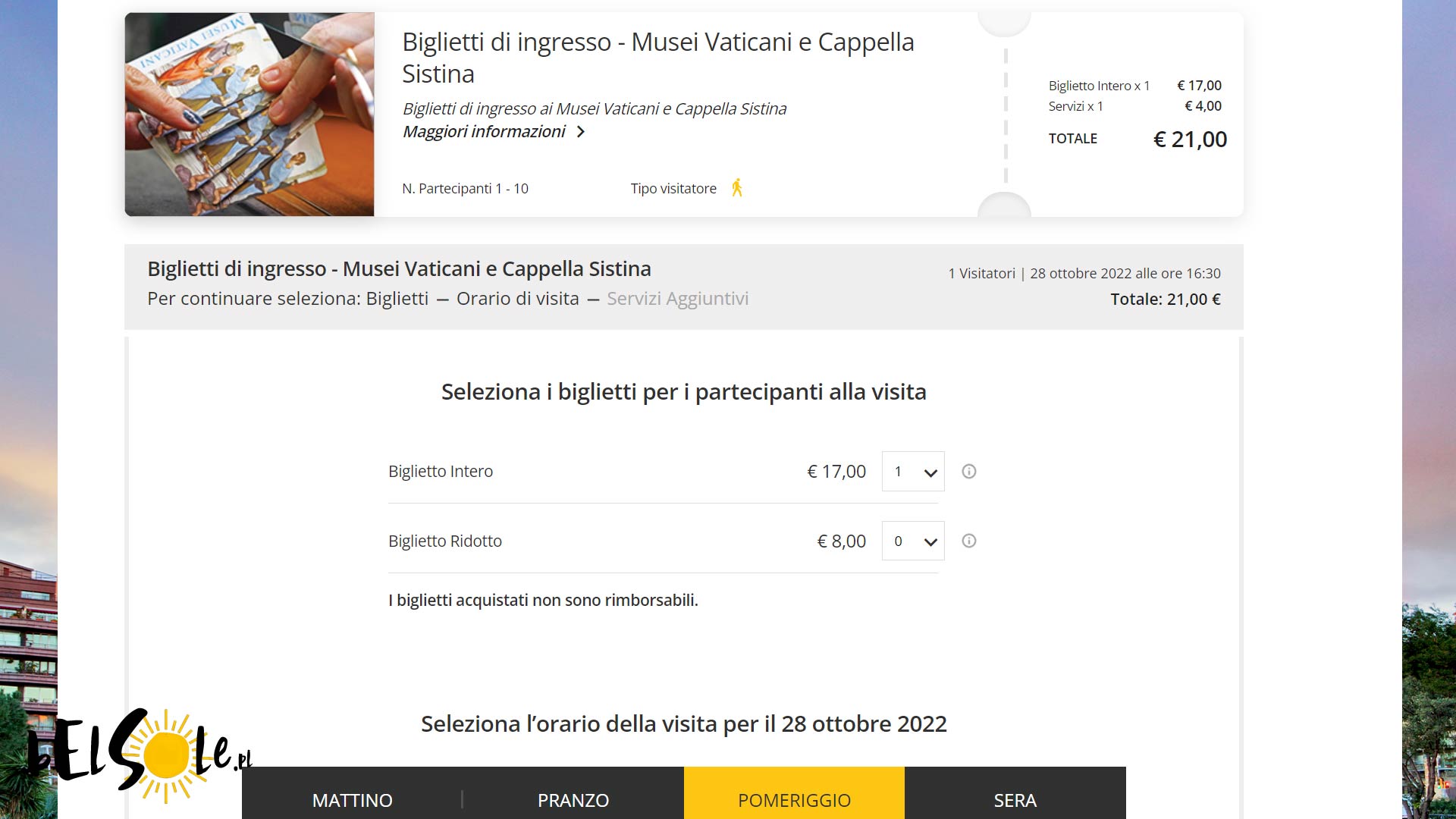 You can only really buy them from the official Vatican Museum website – and yes, that's the site with the €5 for reservation. You'll find it here: https://tickets.museivaticani.va/home.
See also: