Venice is one of the most popular spots for celebrating New Year's Eve in the whole of Europe. It's both a cultural experience in and of itself and a whole lot of great parties. What can you do in Venice on New Year's Eve? How much do things cost? We'll guide you through all of that today.
We had a lot of fun on our stay in Venice for the New Year, it was excellent stuff. Still, before we get to the fun, a bit of pragmatism. You should book your accommodation way in advance, as the prices closer to the end of the year can be cosmically high. Additionally, remember that this is a very, very busy time in Venice, so, firstly, the accommodation slots may sell out very quickly beforehand. Secondly, if you prefer a more private and peaceful style of celebrating, this might be a bit of a tiring place for you. The issue with having to book things in advance is also important for the fancier restaurants, if you wish to visit those.
Still, New Year's Eve in Venice is an excellent idea because of the beautiful scenery of the city itself and the unforgettable atmosphere it employs for the occasion. There are also incredible firework displays over the Canale Grande.
New Year's Eve in Venice
A New Year's with a hint of class
What do you associate New Year's Eve with? Ball, fun, fireworks, good food? You'll find it all on site in Venice – plus the city's magical setting will make you feel like you're in a Disney movie.
Many hotels offer special sumptuous dinners, banquets and parties until dawn. And, of course, you don't even need that as the real magic unfolds on the streets of Venice. What are some of the traditions on New Year's Eve in Venice? What does it look like? Let's start with the high culture side of things.
New Year's concert at the Venice Opera House
Concert at Teatro la Fenice
The Concerto di Capodanno is a traditional concert in Venice on New Year's Eve. It takes place at Teatro la Fenice, in the old centre of Venice. Concerts usually take place on 29/30/31 of December and 1st of January. Once again, we'd recommend you stock up on tickets well in advance. Prices start at around €225 per seat on 31 December 2023. This year, Daniel Harding will conduct the New Year's Eve Concert.
As is now tradition, the first part of the concert will be purely for orchestra. With soloists and choir, the second part is dedicated to melodrama and will end with what has now become a tradition at the Fenice New Year's Concerts, with the choir "Va' Pensiero" from Nabucco and the toast "Libiam ne' lieti calici" from Traviata by Giuseppe Verdi.
Learn more at: https://www.veneziaopera-tickets.eu/en/event/venice-new-years-concert-at-la-fenice-opera-theater-italy-8085
New Year's Eve Fireworks in Venice
Fireworks display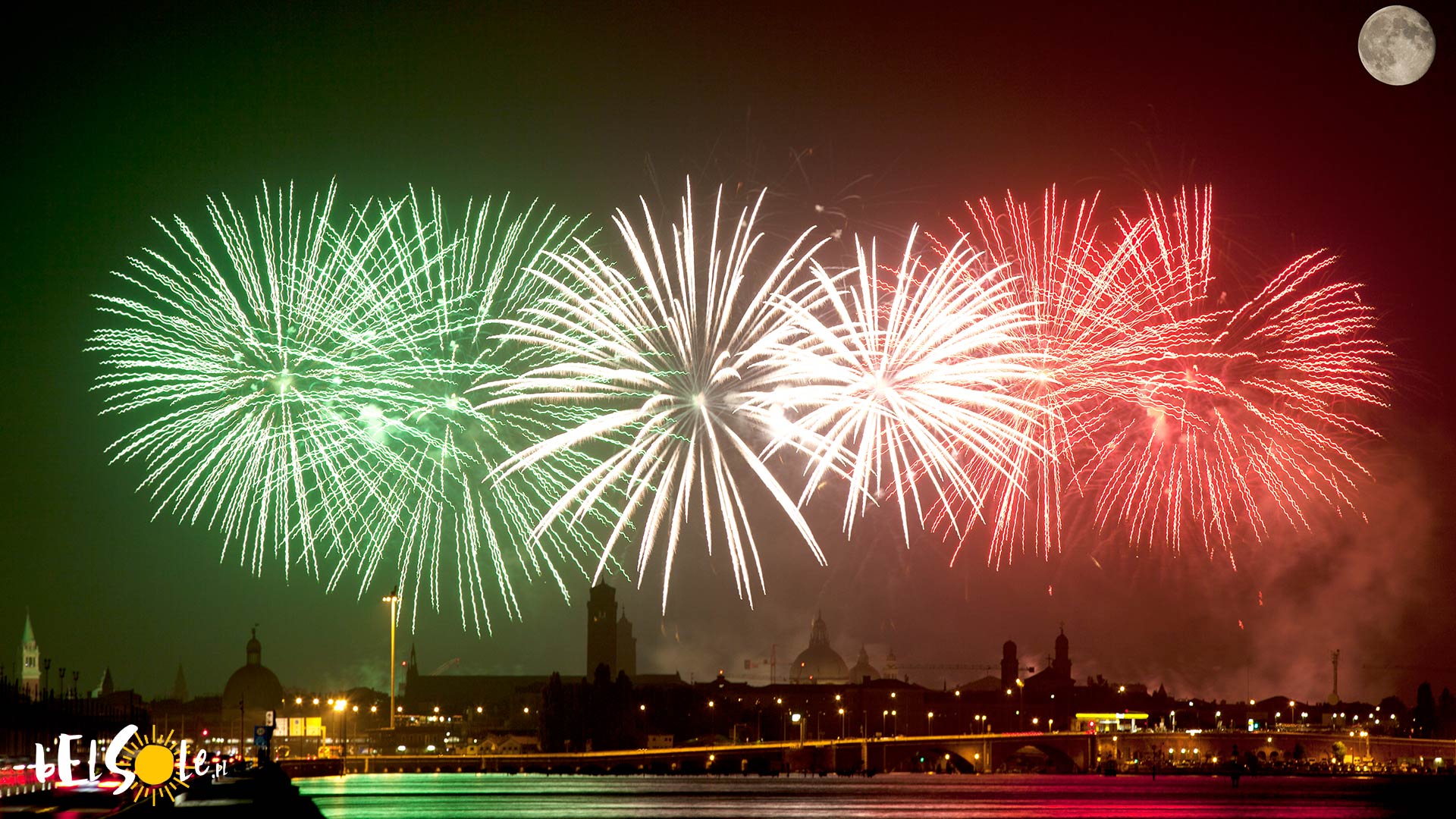 After a traditional dinner of sausage and lentils, Italians and Venetians go to St Mark's Square where the arguably most important and characteristic part of the celebration takes place. There are often safety checks done at the entrances to the square, so make sure you don't bring over something iffy or dangerous. At midnight, the bells on the Campanile tower are rung and the display begins. Remember that you can't unleash your own fireworks in a crowd – first, you could injure someone, second, you could accidentally set Venice on fire. Please, do not set Venice on fire.
Some people choose to take a gondola ride for that special moment. As you can imagine, the prices are absurdly bonkers, cosmic horror stuff. But it is a once-in-a-lifetime experience, isn't it?
(we don't know, it's not for our budget, but you go wild if you can)
What to do in Venice on New Year's Eve
Exploring Venice
Most tourist attractions are open and in regular operation on New Year's Eve and New Year's Day, though the hours of their operation are reduced heavily. Remember to double-check the closing hours prior.
Accommodation in Venice on New Year's Eve
Just how expensive is it?
Is New Year's Eve in Venice expensive? Let's put it this way: you'll obviously have to pay more for a night than during the high season. Prices in a good hotel for a double room can reach €300 – €700. It'd be wise to look for cheaper alternatives around Venice.
See also: